Woooo it's Wednesday! This means another "What I Ate Wednesday" post (:
Thank you
Jenn
for this awesome idea!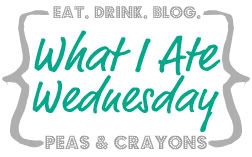 Let's get started, shall we?


So I just bought a Ninja blender the other day and fell in love with it. I've been making smoothies like crazy. This was this mornings combo: spinach, greek yogurt, mango, and strawberries. I also had a piece of toast with jelly on the side.
I've also been obsessed with this wrap lately. I've had it about 5 days in a row now for lunch, oops :p
It's turkey, avocado, roasted red peppers, lettuce, and hummus on a whole wheat wrap. I had some cottage cheese on the side for some more protein.
I love luna bars for a snack. I normally have the chocolate peppermint stick one but today I went with white chocolate macadamia. It was deeeelish. I had a peach as well.
For dinner, me and my boyfriend made stuffed peppers. I haven't had these in soo long. They came out amazing! The cheese on top was nice and crispy.
Mmmmmmm this dessert is awesome AND good for you. All I did was blend 1 cup of plain greek yogurt with a cup of frozen strawberries. I stuck it in the freezer for about 3 hours and it turned into fro-yo! (: I will deff be making this again tomorrow but I'm going to try it with a different frozen fruit.
Hope you guys have a great night!
Talk soon
xoxo Olivia